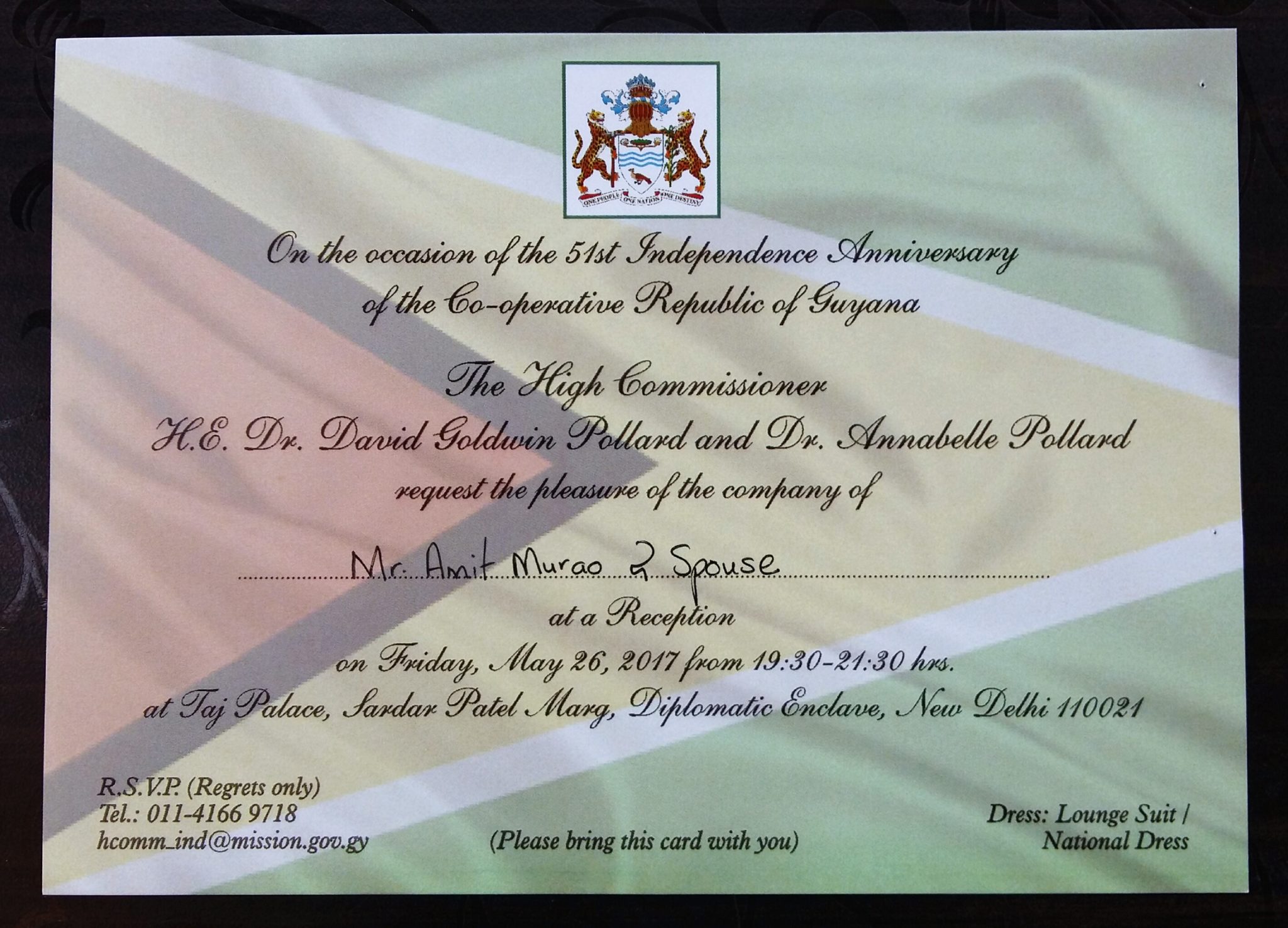 Feeling overwhelmed after receiving the invitation from His Excellency Dr Pollard (High Commissioner of Guyana to India), on the occasion of the 51st Independence Anniversary of the Co-operative Republic of Guyana!
Looking forward to an amazing evening… 😊
This invitation was subsequent to successful completion of Interior Design Project awarded to us by Embassy of 'Replublic of Guyana High Commission' situated at Vasant Vihar, New Delhi. Read more here…
INTERIOR DESIGN of Guyana High Commision, Vasant Vihar, India
The Guyanese high commission is one of 427 foreign representations in India, and one of 173 foreign representations in New Delhi.
HIGH COMMISSIONER DAVID POLLARD ACCREDITED TO THE REPUBLIC OF INDIA
On September 21st, 2016, Dr. David Goldwin Pollard, Guyana's new High Commissioner to India, presented his credentials to President Pranab Mukherjee. Dr. Pollard is Guyana's sixth High Commissioner to India since the establishment of diplomatic relations between the two countries on May 26th, 1966.
President Mukherjee centred his remarks on the advancement of Guyanese/Indian bilateral relations over the last 50 years. He highlighted the similarities between the two countries that were once colonies of Great Britain that have now become Republics collaborating to increase the development of both their nations and peoples. The President expressed his Government's intention to foster relations between Guyana and India and in so doing, hopes that Guyana's new High Commissioner will continue to enhance relations, especially in the areas of trade and investment.
High Commissioner Pollard, in his response, voiced his Government's intention to focus on economic & commercial diplomacy and to continue to build on the solid and friendly ties that exist between Guyana and India.
Read more here…
—————————————–
RECENT POSTS
—————————————–