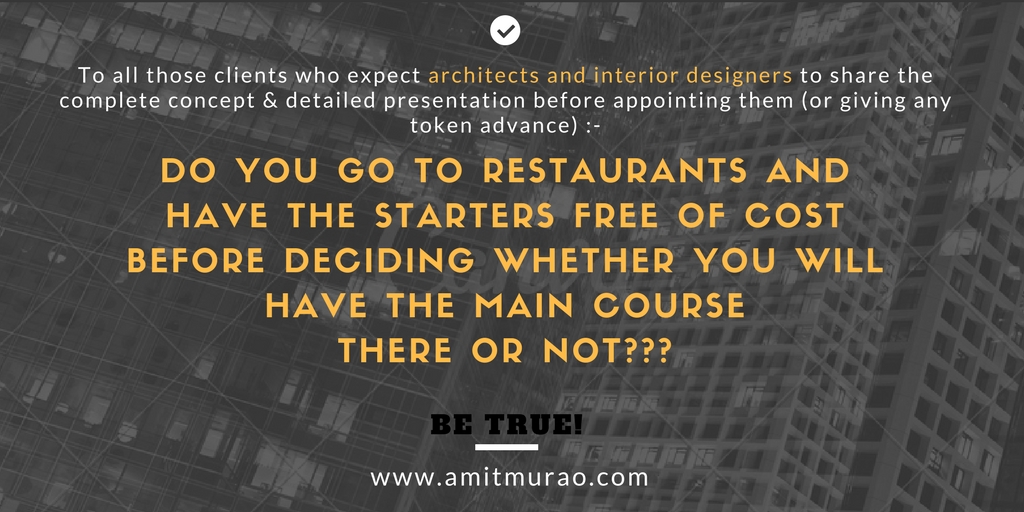 To all those clients who expect architects and interior designers to share the complete design concept & detailed presentation before appointing them (or giving any token advance) :-
Do you go to restaurants and have the starters free of cost before deciding whether you will have the main course there or not???
Just to elaborate on my point I would like to share the following incidence : I got a call from a developer who also happens to own a car dealership. After initial discussions he asked us to submit a design proposal (for a commercial development), to which I requested for our token advance payment. And what he said afterwards was unacceptable to me! He said — 'I own a car dealership, I invite my clients to come and see the cars, take a test drive and then let them decide if they wish to buy it or not. So why don't you submit your design proposal and then I will decide if I want to go ahead with you or not.' My response to this was similar to what I have mentioned in my post – and no I did not regret saying that to him!!!
Comment you opinion below…
Do you go to restaurants and have the starters free of cost before deciding whether you will have the main course there or not? BE TRUE!!! pic.twitter.com/AhjmxTqUiz

— Amit Murao (@amitmurao) May 21, 2017
—————————————–
RECENT POSTS
—————————————–